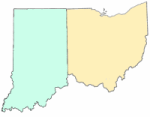 At the risk of bringing too many acronyms into the same room, communications officials from BRICS, MARCS and SAFE-T met yesterday to discuss interoperability between Ohio and Indiana public safety.
Indiana has a state-wide public safety radio system called Project Hoosier SAFE-T (Safety Acting for Everyone – Together), similar to the Multi-Agency Radio Communications System (MARCS) in Ohio.
While all three organizations have Motorola trunked radio systems, talking from one to another isn't always easy.  With no way to directly connect our systems, detailed planning and technical workarounds must be put in place so users of disparate systems will be prepared to work together.
At the state level, Ohio and Indiana are working on providing several talkgroups that will allow for inter-state mutual aid and we plan to participate in their project. Locally, we are also pursuing similar solutions to link our BRICS voice system with Franklin, Union and Dearborn counties in Indiana.
Even after all Butler County agencies have transitioned to the BRICS 800MHz voice system, a long process remains to establish and improve interoperability with our neighbors. This initiative is one of many in progress to link our responders with others regionally.
We've been able to directly share talkgroups with some of our neighbors.  Each BRICS public safety radio contains talkgroups from Cincinnati, Hamilton County, MARCS, Montgomery County and Warren County.
In other cases, special solutions are needed.  While Indiana SAFE-T has been very cooperative, technical limitations kept us from putting their talkgroups in all our radios, so we've had to pursue other ways to communicate.
Talkgroup sharing doesn't create instant interoperability. Plans, policies, exercises and training are all necessary to make your radio work when you need it.
Related Training Materials