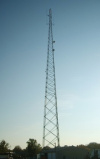 Four more frequencies were brought online to the BRICS 800MHz voice system today. There is now a total of nine in operation, providing one control channel and eight voice channels.  The new frequencies are from the City of Oxford five-channel license.
We were unable to use these four frequencies until after August 3rd, when they were released by Sprint-Nextel as part of the rebanding process. Use of the fifth City of Oxford frequency is delayed because of a conflict involving the Ohio MARCS rebanding process.
The infrastructure was programmed and ready to use; we were simply waiting to activate these frequencies on the system when they became available.
With this additional capacity, we can now proceed with transitioning users of the existing Oxford 800MHz system to the new countywide system. We've been preparing for this transition over the last few months and hope to accomplish it in the next two weeks.  Dispatch center work was completed at Miami University last week and work is beginning at Oxford this week.
All primary users of the Oxford system will switch first, including:
City of Oxford police, fire and public works
Oxford Township police
Miami University police, EMS and public works
College Corner fire
and McCullough-Hyde ER
As soon as this is accomplished, we will work to convert the Oxford radios currently operated by secondary users in the surrounding townships, to maintain the interoperability of the county's west side.