In the first quarter of 2010 (January through March):
There were over 1.3 million Push to Talks (PTTs) over all talkgroups on the system.
The busiest talkgroup was the City of Hamilton's main law enforcement talkgroup, HM LE MAIN, with over 257 thousand PTTs. The second busiest was the Sheriff's Office main law enforcement talkgroup, SO LE MAIN, with over 245 thousand PTTs.
The Butler County Engineer's Office and Butler County EMA coordinated winter storm responses on the 800MHz system.  Several public works departments were able to share information more easily with their neighbors and keep snow plow drivers in touch.
We completed our first annual preventative maintenance on the 800MHz radio system infrastructure.
To see the busiest talkgroups for the quarter, click the chart below to enlarge or download the PDF version.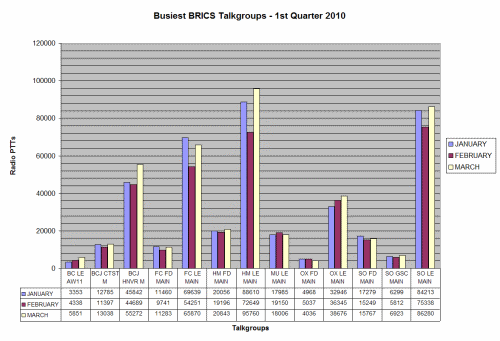 The month of March 2010 was our busiest yet. In March:
481,846 Push to Talks (PTTs) (a 14% increase over last month)
740 hours, 11 minutes and 15 seconds of calls (a 16% increase over last month)
9 active channels (8 voice channels, 1 control channel)
4 channels from the West Chester license are expected soon; 2 are tied up due to rebanding