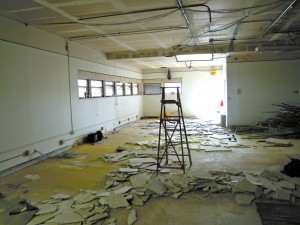 With the BRICS staff now relocated to the Court Street Jail, demolition began last week at the facility on Princeton Road. The drop ceiling was removed throughout the first floor, in preparation for new ducts.
Federal grant money for energy efficiency has allowed for the removal and replacement of the existing HVAC system, including new ducts, boilers and air handlers to meet today's standards. The existing system is over 20 years old and inadequately sized to perform effectively. It has required more frequent maintenance and, even when functioning, has been unable to keep office temperatures below 80 – 85 degrees on hot summer days.
These upgrades, along with several others paid for by grant and local funding, are part of the first phase of the master plan to provide an improved facility for the EMA's Emergency Operations Center, which is currently housed at the Government Services Center in downtown Hamilton, as well as the Sheriff's Office Communications Division. BRICS staff hopes to return in three to four months.