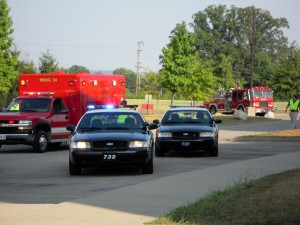 A training exercise organized by the Fairfield Fire Department tested the response of several Butler and Hamilton County agencies to a shooting with numerous casualties at the Fairfield High School.
The BRICS 800MHz voice system was used to coordinate the response to the drill. BRICS staff assisted the Fairfield Fire Department with radio pre-planning and acted as a communications evaluator for the exercise.
The initial response by Fairfield Police, Fire and EMS quickly expanded as the incident command post was set up and mutual aid was requested from nearby communities.
Before long, Fairfield had established a unified command, using the National Incident Management System (NIMS), between police and fire. Talkgroups on BRICS were assigned for fire command, EMS operations, police command and SWAT operations. A national mutual aid channel was used to coordinate the landings of UC Air Care and Miami Valley's Care Flight.
Volunteers acting as victims, with moulage and fake blood applied to simulate their trauma, were triaged and transported to area hospitals. Once there, hospital staff participated by simulating the treatments that would be required.
The exercise, organized by Lt. Richard Hall at Fairfield FD, demonstrated the ability of multiple public safety agencies and disciplines to respond to, communicate during and successfully mitigate a serious mass casualty incident.
This was the first full-scale exercise to take advantage of the countywide radio system. BRICS staff involvement allowed us to meet all the new communications requirements as specified in the National Emergency Communications Plan (NECP) while working within the NIMS framework. Many of the communications obstacles encountered during past exercises and incidents were no longer a problem thanks to a common interoperable platform. It streamlined the planning process and simplified the operation as responders utilized the same talkgroups for the exercise as they would during daily operations. In evaluating the exercise, we believe the federal mandates were met and the experience has better prepared us for planning for such future events.
BRICS staff are working to ensure we continue to meet the standards mandating interoperable communications as required by the Department of Homeland Security. This is an ongoing process and we appreciate the assistance of our user agencies. Other agencies with an upcoming training exercise or special event are encouraged to contact us for assistance with communications pre-planning. We can help with talkgroup assignments, interoperability with neighboring counties and securing additional resources for your event.