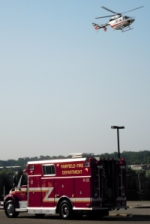 The BRICS office has received notification that Care Flight and Air Care have reprogrammed their radios to include rebanded national mutual aid channels. Our communications centers may begin assigning the direct frequencies found in Zone C for medical helicopter communication.
Zone Y will remain in radios for situations involving medical helicopters from outside our region that may still be using pre-rebanded channels.
The rebanded names are similar to the pre-rebanded names, but the frequencies are different. If you select 8 i TAC 2 D and the helicopter is on 8 TAC 92 D, you will not be able to talk. If the helicopter is on 8 TAC 92 D and you select 8 TAC 92, you will hear the helicopter but they won't hear you. Always use the full official name to avoid confusion.
BRICS Special Order 2010-002, issued today, addresses this issue and provides guidance to communications centers, fire departments and EMS agencies.
If you have any questions or encounter problems communicating with helicopters, contact the BRICS office.