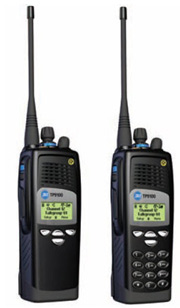 Tait Radio Communications, a manufacturer of portable and mobile radios, recently began offering a Project 25 compliant 700-800MHz product.
BRICS technicians received a demo unit to test radio performance and functionality on the BRICS 800MHz voice system. We have certified Tait radios for non-public safety use on our network.
The test units, Tait model TP9100, met or exceeded our requirements. The type of encryption used by Butler County public safety is not an option on these radios at this time, limiting the types of users that may select this model. All other necessary features are available and the radio performed well during testing.
While all Butler County public safety agencies were provided Motorola radios as part of the initial deployment, system capacity was sized to support users in public works, public health and government administration. Future users of the BRICS 800MHz voice system may now select from EF Johnson, Kenwood, Motorola and Tait radios. As other manufacturers offer P25 capable radios, we will continue to test and certify their products for use on our network.
Please contact us for more information on using Tait with BRICS. We can help your local government, agency or organization select the best equipment to meet your needs.