Narrowbanded Channels in Operation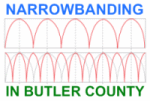 The two week narrowbanding transition period for users of the county-wide VHF fire paging channel began yesterday morning. The new narrowband fire channel (155.5500 MHz) is now being actively used for alerting by four of our dispatch centers: Oxford, Trenton, Sheriff and West Chester. The old wideband channel (154.370 MHz) will continue to operate simultaneously until at least Friday December 21st. During that time, user agencies may schedule vendors or begin their internal effort to reprogram or replace wideband pagers, station alerting and subscriber equipment. A mix of wideband and narrowband will work during the transition period.
The weather siren channel (154.8000 MHz) has been narrowbanded. Sirens activated by the Hamilton, Oxford and West Chester dispatch centers need to be reconfigured before January 1st.
Project Vision
The overall vision of what we're calling our Narrowbanding and Conventional Improvement Project is to establish and maintain a reliable and narrowband-compliant county-wide conventional radio system that provides:
interoperability with conventional neighbors
redundancy during trunked radio failures, and
capabilities to alert fire stations, personnel and weather sirens
Butler County operates a county‐wide, state‐of‐the‐art digital 800MHz trunked radio system. The trunked system provides for the day‐to‐day voice communications needs of all our public safety agencies and many of our public works agencies, using efficient and standards‐based trunking technology. The trunked system uses fourteen government‐owned towers that have been hardened against severe weather and utility disruptions. They are linked with a redundant microwave connection.
Trunking does not, however, eliminate the need for conventional radio systems, which are primarily needed for alerting fire stations, volunteer fire personnel and weather sirens. They are also needed for interoperating with neighbors who still use conventional as their primary method of voice communications.
The existing county conventional radio system included two VHF channels; one primarily used for fire alerting, and the other for weather sirens and interoperability. The limitations of that system included:
Cost

It used some leased tower sites with significant annual cost
In most cases, the sites were linked using leased copper telephone lines

Reliability

The sites were generally without backup generators and are therefore unreliable during storms and utility disruptions.
The sites generally had a single (non-redundant) link back to the master site.
Technicians are unable to remotely monitor the health and status of the conventional system, as they are able to with the trunked system. Their response is reactive, based on reports from users of an outage.

Capacity and Coverage

The conventional system is VHF only; it does not include 800MHz mutual aid.
There are only two county‐wide channels available. During a busy condition like severe weather, fire alerting and weather siren alerting may leave no capacity for interoperability or backup.
The two channels have different coverage footprints; one is four sites, and the other uses five.
Project Scope
The following activities are included in the scope of this project:
Establish new, narrowband‐compliant, county‐wide VHF system

Improve capacity, coverage and reliability over existing system
Use existing, government‐owned tower sites from trunked system

Modify existing microwave network to support conventional system

Reduce or eliminate leased telephone line costs

Plan and execute transition of existing VHF users to new system

Meet FCC narrowbanding deadline – January 1, 2013
Provide the technical support and guidance to user agencies necessary to help them follow the transition plan and meet the FCC deadline

Decommission old, wideband VHF systems and vacate sites

Reduce or eliminate leased site costs

Establish conventional 800MHz mutual aid repeater system
New Fire Channel and Tone Plan



With much of the VHF in Butler County having been re-purposed or vacated by the transition to 800MHz trunking, we were able to engage the frequency coordinator and find the best possible channel pairs for county-wide operation. The former siren and fire channel pairs, when used together, were long plagued with intermodulation distortion issues. Ultimately, a group of frequencies were identified that would work well together and minimize interference. Our existing siren channel was one of the recommended channels; the existing fire channel was not.
By transitioning to a new fire channel, we had the chance to establish this transition period during which some old, wideband equipment could continue to operate on the old channel while narrowband equipment operate on the new channel. This took some of the pressure off agencies and vendors looking to schedule work on what otherwise would have been a single day.
The change in frequency has also given us the opportunity to revise the county's decades-old toning plan and craft one that should be able to carry us long into the future. Tones were laid out to accommodate growth in stations, changes in fire department operations and future additions to the county-wide channel.
Current Project Status
The narrowband fire channel is currently online using a temporary three-site simulcast under Special Temporary Authorization from the FCC. The weather siren channel is online using a temporary single site. The permanent five-site simulcast system for both channels is under construction; antenna installations are in progress and equipment is being configured.
Ultimately, we expect to have four, five-site simulcast channels to provide the coverage and capacity for fire alerting, weather alerting and interoperability. Eventually, we will be able to patch VHF channels into the trunked system to facilitate interoperability between local VHF users (e.g. school districts, public works and transportation), neighboring public safety VHF users, and our own public safety agencies.
Learn more about narrowbanding.