What is BRICS?
The Butler Regional Interoperable Communications System is comprised of several individual systems that provide voice and data communication to public safety and government users based in Butler County, Ohio. While "BRICS" is often synonymous with the 800MHz voice system deployed in 2009, BRICS also includes: VHF radio systems used for fire paging, tornado siren alerting and interoperability with other VHF users; and an IP-based, next generation 9-1-1 telephone system used by Butler County PSAPs. BRICS is supported by the Technical Services Division of the Butler County Sheriff's Office.
Jump to:
BRICS 9-1-1 Telephone System
RMDC 800MHz Mobile Data System
BRICS Microwave Data System
BRICS VHF Radio System
BRICS 800MHz Trunked Radio System
BRICS Mutual Aid / Backup System
BRICS 9-1-1 Telephone System
In 2012, Butler County began planning for a countywide 9-1-1 system capable of being shared by all Public Safety Answering Points (PSAPs) in the county. The system was intended to replace, with IP-based "Next Generation 9-1-1" technology, the six separate 9-1-1 systems operated by PSAPs at the time. Today, all 9-1-1 calls in answered in Butler County PSAPs pass through the BRICS Telephone System.
A county-owned fiber-optic loop links the primary and secondary PSAPs and serves as Butler County's ESI-net (Emergency Services Infrastructure network). That network is the backbone of the BRICS Telephone System.
RMDC 800MHz Mobile Data System
The Butler County RMDC 800MHz Mobile Data System provided mobile (in vehicle) data connectivity from the late 1990s through 2012 for several public safety agencies. It was a five-site Motorola DataTAC system that provided 9.6KB/s of data over a county-licensed 800MHz channel. Vehicular modems were cabled to laptops or vehicle-mounted computers and allowed public safety users to receive information about dispatched calls for service and, for law enforcement, make inquiries to state and national databases.
While the RMDC system was preferable in many respects to commercial systems, because it was government-operated and built to public safety requirements for reliability, the limited throughput of the "data pipe" did not scale to increasingly demanding data applications. As those data needs increased, user agencies began leaving the system in favor of commercial cellular networks. The last agency using the system switched to another provider in 2012 and the system was disbanded. The 800MHz data channel was repurposed for voice communication by adding it to the BRICS Trunked Radio System.
BRICS Microwave Data System
A network of microwave data radios links the 14 BRICS radio tower sites. This system provides the connectivity needed to operate the VHF and Trunked radio systems.
The network is configured in a loop format so that, if trouble arises with a link between sites, the signal can reverse around the ring and continue to function without a loss of service.
BRICS VHF Radio System
The BRICS VHF Voice System provides fire station and personnel alerting, weather siren alerting, and interoperability with VHF users. Five tower sites are used to provide VHF coverage.
BRICS Mutual Aid / Backup System
More information coming soon.
BRICS 800MHz Trunked Radio System
In 2009, Butler County began use of a state of the art voice communication system. The Butler Regional Interoperable Communications System, a digital 800MHz Motorola Astro 25 system, was built to meet the APCO Project 25 standard for radio system interoperability.

Fourteen tower sites in and around our county provide the coverage and capacity needed to support our public safety and governmental users.  The system was designed to support the voice communications for Butler County as well as all the local municipalities and agencies based in the county that use it for their primary public safety communications.
The system was built by the Butler County Board of Commissioners and is operated by the Butler County Sheriff.  It supports all 14 law enforcement agencies, 23 fire and EMS agencies, and numerous other government and public service agencies.  It was sized to provide future support to public works, public health, hospitals, transportation and schools.
The system provides improved emergency response to the region's 330,000+ residents by allowing public safety agencies to immediately share information and intelligence during routine operations and natural or man-made disasters. Regional communication is an essential component of emergency planning and response.
For a full list of our users, click here.

Learn about the history of the system.

Learn about the system governance and advisory board.
Towers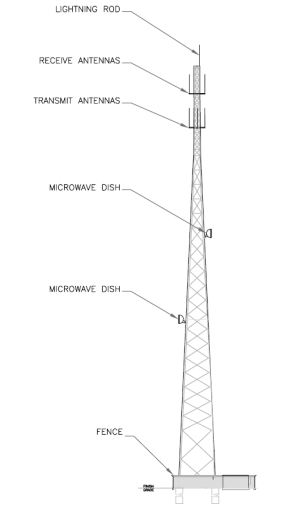 We use 14 radio towers to simulcast our trunked system.  Four of the towers were pre-existing; ten newly constructed.  The tallest new tower is 350 feet (but our highest transmitter is at 360 feet on a pre-existing tower) and the shortest is 180 feet.  Most of the towers are around 280 feet tall.
Users
In 2010, we'll be underway with over 2200 subscribers, 23 fire/EMS agencies, 14 law enforcement agencies, 9 dispatch centers, and 6 hospital emergency departments on one radio system.
Capacity
The system will begin with 15 licensed frequencies, pooled together by Butler County, the City of Oxford, the City of Hamilton and West Chester Township.  Enough infrastructure equipment was purchased and installed to support 20 frequencies, allowing us to grow capacity as soon as more frequencies become available.
Coverage
The system was built to meet a specified coverage requirement:  95% portable radio coverage in 15db buildings within Butler County and 94% of specific extended areas (where Butler County agencies respond outside the county borders).  This means that a portable radio should be able to transmit and receive in 95% of the county from within a building with the density of a typical home.  Even where no structure exists, this coverage level was a requirement.  In practice, users have been able to use their radios clearly from within our densest buildings – places they were never able to communicate before.
Our Coverage Acceptance Test performed in 2008 by Motorola and Butler County showed our requirements had been exceeded.  The system scored 99.84% in Butler County and 99.65% in extended service areas.
Learn more about coverage testing.
Dependability
The radio towers are designed to be sustainable during the severe weather we experience here – specifically, ice and wind.  All of the system infrastructure is self-sustaining during emergencies when utility power becomes unavailable.  Every component is powered by battery.  The batteries, normally charged by utility power, are backed up by generator to provide long-term service in the absence of normal utilities.
Interoperability
In addition to allowing every first responder in our county to talk to one another – something we could never do before – we will be able to talk to more of our neighbors than ever.  Large scale emergencies don't respect geopolitical boundaries and help can come from all over.  Every public safety radio on the Butler County system will be provided channels to communicate with users of the Hamilton County, Cincinnati, Montgomery County, Warren County and State of Ohio radio systems.  In addition, national mutual aid frequencies will allow us to communicate with anyone with a compatible and properly programmed radio.