In Butler County
The common law enforcement interoperability talkgroups on the Butler Regional Interoperable Communications System are called "Area Wide" talkgroups.  They can be used to coordinate any incident between law enforcement agencies in Butler County.  They are abbreviated as "BC LE AW" for Butler County Law Enforcement Area Wide.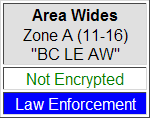 BC LE AW 11 through BC LE AW 16 are located in Zone A, positions 11 through 16, on all Butler County law enforcement radios, allowing for quick and easy access from a user's home zone.
The Butler County police chiefs requested that BC Area Wide 16 be designated for emergencies.  BC LE AW 16, in the 16th position of zone A, is the easiest channel to switch to without taking a portable radio off the belt.  The user can simply turn the channel selector knob all the way until it stops.  The radio channel announcement will verbalize the talkgroup name to confirm the selection.
Policy Recommendation
In law enforcement emergency situations that may eventually necessitate mutual aid, BRICS recommends that communications centers assign BC LE AW 16 or similar talkgroup as early as possible.  Pursuits, in particular, are likely to cross jurisdictional lines and their path can be unpredictable.  Switching to an interoperable talkgroup as soon as possible is very important.
Local agencies should include plans for how they will communicate in all local emergency procedures.  It is important to make a concerted effort with neighboring jurisdictions to plan for communication in multi-agency responses.  The radio system has been provided as a powerful tool; local policies must define how best to use it.
Hamilton County
Area Wide is also the name used for Hamilton County's common law enforcement interoperability talkgroups.  They are abbreviated in the radio as "HC AW" and located in zones F and G.
Hamilton County agencies have been offered permission to program Butler County interoperability talkgroups into their radios.  Until that happens, all Butler County radios include Hamilton County talkgroups and a shared incident could be conducted on their talkgroup.  See the Other Systems page for more information.