Policy
BRICS Policy 3.03 "Informational All-County Broadcasts" defines the process by which a dispatcher makes an informational broadcast to other agencies and communications centers to alert them to a serious incident, crime or other urgent information of regional interest.
Training
BRICS All-County Broadcast Training for Dispatchers
History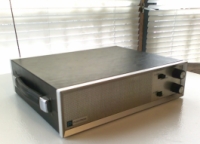 Several decades ago, a system was developed to allow a dispatcher at the Butler County Sheriff's Office to initiate an "all county broadcast." Urgent bulletins the dispatcher believed could be of interest to multiple agencies were transmitted with a special tone that activated receivers in other Butler County dispatch centers.  The receivers automatically patched in the audio from the Sheriff channel to the police channel of other centers, allowing all agencies to get the message simultaneously.  A dispatcher at the receiving agency could, after determining the broadcast didn't apply to their area, press a button to stop the patch.
It was a system with good intentions and inherent flaws.  It was disbanded, primarily, because member agencies were uncomfortable having their main police channel overridden without warning.  A message about a pursuit along Interstate 75 might have suddenly made Oxford's police channel unavailable while their officers were in the midst of a bar fight.
Today: Informational All-County Broadcasts (ACB) on BRICS
On the BRICS 800MHz voice system, talkgroups were developed to allow for opt-in countywide broadcasts. Users can scan these informational talkgroups without making their main dispatch talkgroup unavailable for local emergency traffic.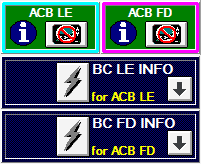 BC LE INFO and BC FD INFO have been programmed in every law enforcement and fire/EMS template, respectively.  Depending on local policy, responders can add the talkgroup to their scan list to hear informational broadcasts from other Butler County area dispatch centers. Other centers will receive the broadcast directly over a dedicated PSAP talkgroup.
Dispatch centers will select the appropriate ACB options depending on the situation. Broadcasts on these talkgroups will begin with a short, solid tone. Dispatchers no longer have to worry about interrupting activity in progress at other centers because they will not be affecting main talkgroups.
Broadcasts that are law-enforcement specific, such as "Be On the Look-Out" (BOLO) messages, can include the BC LE INFO talkgroup.  Fire/EMS specific messages (i.e. a hospital is on diversion) can be transmitted on the BC FD INFO talkgroup. Both can be selected for broadcasts of general interest. A broadcast about a missing child, for instance, might be law enforcement related but it could be of value to get the description out to fire and EMS personnel as well.
Is the INFO talkgroup in your scan list?

Your BRICS radio includes the appropriate INFO talkgroup in Zone E. Consult your local scanning policy.

If you wish to add it to your scan list, click here to learn how.
Broadcasting Beyond Butler County
Who else hears our All County Broadcasts? In addition to the INFO talkgroups on our system, which can be added to the scan list of BRICS radios, the ACB automatically includes the SO-09 talkgroup on Ohio MARCS.
State MARCS Users:  Highway Patrol, Ohio DNR
Each dispatch center has access to Butler County's designated MARCS talkgroup, or "OH SO-09". This talkgroup is on the statewide radio system and can be heard by OSHP Post 9, Ohio DNR units, and any users of the MARCS system.  A state trooper on SR129, for example, would really like to know about the bank robber fleeing down the highway before trying to stop him for a traffic violation. It is for this reason the MARCS talkgroup is included automatically in all our law enforcement ACBs.
Based on agreements with neighboring systems and non-BRICS agencies, our dispatchers have the ability to select other ACB options depending on the geographic relevance of their broadcast.
Adjacent Ohio Counties
Other counties with compatible radios have been offered permission to program our talkgroups in their radios and dispatch centers, which would at least allow their dispatchers to hear Butler County broadcasts. We are working on county-specific solutions that will allow field units in other counties to scan our broadcasts if they so choose.
When is it used?
A BRICS policy formally outlines the criteria to consider when deciding if an ACB would be appropriate. All dispatchers and field personnel should familiarize themselves with this policy.
A BRICS All-County Broadcast can be initiated in one of two ways:
by the communications center, based on an incident in progress or information they have received from a citizen, teletype or other means
by a field unit, who requests an ACB from their communications center based on information the field unit has gathered (i.e. the description of a robbery suspect)
You can expect to hear broadcasts, at a minimum, about situations like:
– officer / responder needing emergency assistance
– vehicular pursuits
– "critical missing" and abductions that have just occurred
How will it sound?

All County Broadcast Tone (click to play mp3)
A BRICS All-County Broadcast will:
– include a short, solid tone
– begin with "Attention, this is an all county broadcast from the _____ communications center"
– include plain language only
– include a talkgroup assignment for responding units, if applicable
Example:
"Attention, this is an all county broadcast from Butler County Communications for a report of shots fired with an officer needing assistance, 1-8-1-0 Princeton Road in the city of Hamilton, cross streets Hampshire Drive and Hastings Avenue. Unit 9-Queen-1480 is reporting shots fired and requesting emergency assistance, 1-8-1-0 Princeton Road in Hamilton. Butler County Area Wide 16 has been assigned. Relayed by Butler County Communications."