Impres "Smart-Battery" Technology
Motorola XTS 5000 portable radios provided by Butler County include Impres smart batteries and chargers.
Impres, as described by Motorola:

When used with an IMPRES™ charger, IMPRES batteries provide automatic, adaptive reconditioning, end-of-life display and other advanced features. Data is stored in the battery and communicated to the charger via a unique IMPRES communication protocol which is designed to maximize talk-time and optimize battery cycle life — all automatically.
In short, the Impres battery stores information about its capacity, current charge and number of cycles.  It communicates this information with the portable radio and with Impres chargers.  If the battery is already charged, the Impres charger will know not to charge it again.  Periodically, the charger reconditions the battery by draining it down and charging it again.
Intrinsic Safety
All of the Motorola radios and batteries provided by Butler County have been FM approved as intrinsically safe, as indicated by the green logo and circle found on the bottom of the radio and battery.
As described by Motorola:

Intrinsically safe products are designed with enhanced protection against potential sparking which could ignite flammable gasses or combustible material. Motorola's batteries and radios also conform to the "intrinsically safe" standard: certified and rated by an approval agency as intrinsically safe for use in classified hazardous areas where flammable gasses or combustible dusts or fibers may be present.

How does Motorola make batteries intrinsically safe? Actually it's the battery, radio and accessories in combination as a system that is tested to determine if they are intrinsically safe. The following agencies approve and certify Motorola two-way radios and batteries: the Factory Mutual Corporation (FM), the Canadian Standards Association (CSA), the Mine Safety and Health Administration (MSHA) and/or CENELEC Approval Agencies.
Checking Your Battery Status
Use the left or right arrow buttons to navigate to the BATT menu item on the XTS 5000 radio screen.
Press the soft key beneath BATT to display battery status information.  Press the home button when finished.
The battery status screen shows the remaining percentage of rated capacity, the remaining capacity in mAh, and the estimated number of charges the battery has had so far.

Click to hear the low battery sound
General Battery Tips
If you insert a battery into the charger and it begins the recondition cycle (steady yellow light) but you know you'll need to use it soon, pull it out of the charger and then re-insert.  The charger will wait until next time for reconditioning and will begin normal charging (steady red).
New Motorola impres batteries, when inserted into a Motorola impres charger, will indicate a calibration cycle by displaying a steady Yellow indication on the charge status indicator. Allow this calibration process to complete by not removing the battery from the charger until it has completely charged and displays a steady green indication.
If used batteries are to be removed from service for extended periods (greater than 30 days) they should be discharged to about 50% of their capacity before storage in a cool, dry location.
Batteries which have been in storage for more than two months should be fully discharged and recharged.  For Impres batteries, the recondition feature of the Impres charger should take care of this.
Buying Additional Batteries
Can I buy additional batteries?
Yes, contact us for more information and special pricing.  We recommend only purchasing Motorola Impres batteries.  While other brands are available, the smart battery technology in your Impres charger will only work with Impres batteries.  Also, remember that, without an FM-approved intrinsically safe battery, your radio is no longer intrinsically safe.
The BRICS office purchases batteries at a bulk rate, and can provide one or more batteries to you at the reduced price.
Note: Batteries kept "on the shelf" will lose service life quickly. It is not recommended to keep spares on hand unless they are regularly used. It is for this reason that BRICS keeps only a small quantity of batteries available for counter service; quantity purchases will usually require a few days to receive them.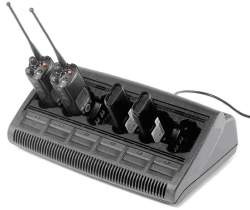 Impres Chargers
What do the lights on my charger mean?
Single Flash Green
Charger has successfully powered up.
Steady Red
Battery is in rapid charge mode.
Flashing Green
Battery has completed rapid charge (>90% available capacity). Battery is in Top-Off charge (Trickle charge).
Steady Green
Battery has completed charging and is fully charged.
Flashing Yellow
Battery is recognized by charger but is waiting to charge. (Either the battery voltage is too low or the battery temperature is too low or too high to allow charging. When this condition is corrected, the battery will automatically begin charging.)
Flashing Red
Battery is unchargeable or not making proper contact.
Steady Yellow
(This feature applies to IMPRES batteries only) Battery is in recondition or initialization mode. The length of time the charger remains in this mode depends upon the state of charge remaining in the battery when inserted. (Fully charged batteries require more time to recondition – 8 to 12 hours or more – than fully discharged batteries.)
Flashing Red/Green
(This feature applies to IMPRES batteries only) Battery has completed charging and is fully charged. Battery continues to be usable, but may be nearing the end of its rated service life.
Vehicular Chargers
 Motorola offers two options. Contact us for special pricing on either model.
IMPRES Vehicular Charger
The IMPRES Vehicular Charger (WPLN4208) is a 12V DC unit that supports NiCd, NiMH, and Li-ion batteries for the XTS 5000.  It uses IMPRES charging technology but does not recondition your radio (so as not to leave the battery dead when you need it in the field).
This mountable charger holds the radio securely in place, which is important in a vehicle.  While expensive, this is our recommendation for fire apparatus and command vehicles or any situation where it will be used routinely.
Travel Charger (Non-IMPRES)
The Travel Charger (RLN4884) is a 12V DC unit that plugs into your vehicle's accessory socket. It is considerably less expensive and may be valuable as a backup for unexpected dead batteries while away from home.
You should still regularly return your radio to an Impres charger to maintain normal battery life.  It is NOT an Impres charger.
It does not mount to the vehicle. The radio and charger could become a dangerous projectile in a traffic crash.