The Channel Marker feature allows you to send a tone across a particular talkgroup which will occur every 10 seconds until terminated. The marker indicates that the talkgroup is restricted to emergency traffic only.
Activating the Channel Marker
To initiate the channel marker, click the button on the desired talkgroup.  It will turn red and you will see the transmit icon appear on the resource while the tone is being sent.
Channel marker active:


Channel marker inactive:


The marker is available on three talkgroups – BC CALLING and the LE MAIN and FD MAIN for your particular center.  At the Sheriff's Office, for example: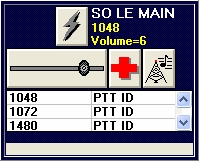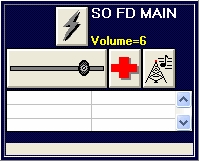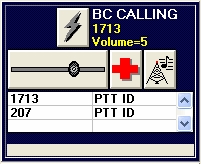 Emergency Traffic vs. Radio Silence
Before the trunked radio system was available, agencies using conventional frequencies typically only had one or two channels to conduct their operations.  It may have been common for field units, particularly in law enforcement, to request a restriction to emergency traffic or radio silence on their main channel.
Situations like a high-risk traffic stop might require emergency traffic only – not because silence is needed, but because the units engaged in the high-risk situation need a clear channel to call for assistance.  The channel marker is activated in those situations to let everyone know to restrict their traffic during the emergency.  In other cases, like building searches, radio silence is preferable because noise might alert suspects to an officer's position.
The trunked system now gives us lots of places to talk beyond the main dispatch talkgroup.  It's no longer necessary to restrict the main talkgroup to radio silence.  A pre-planned operation, like a building search, can be directed to an LE OPS talkgroup.  This gives the units involved a quiet, encrypted place to talk where they won't be interrupted.
Procedure for BC Calling Talkgroup
The BC Calling talkgroup has a channel marker function because it may receive emergency alarms from mutual aid users.  These situations may require a restriction to emergency traffic only.  Visit the policies page and read the BC Calling policy for more information.
When making the restriction, make an announcement:
(Alert Tone 1)  "Middletown Communications is restricting BC CALLING to emergency traffic only until further."
Activate the Channel Marker.
De-activate the marker at the end of the emergency and make a corresponding announcement:
"Middletown Communications, all units, resume normal traffic."
We recommend a similar procedure for emergency traffic restrictions on your local LE MAIN and FD MAIN talkgroups.