There are two speaker microphones used with public safety radios on the BRICS Trunked Radio System.
Law enforcement radios use the Public Safety Microphone.
Fire and EMS radios use the Commander II Remote Speaker Microphone.
Different microphones were selected to address the needs of the specific public safety disciplines.
Some public works and public transportation agencies use a simple remote speaker microphone, similar to the Commander II but without emergency and volume controls.
---
Public Safety Microphone (PSM)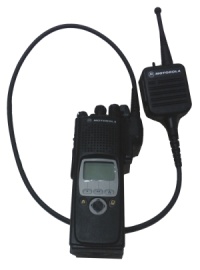 The public safety microphone places an antenna at shoulder-level.  Since law enforcement officers typically patrol inside vehicles with a portable radio on their belt, the PSM was chosen because it puts the antenna up higher for better range.
Features:
push-to-talk button
3.5mm earjack
swivel clip
antenna connector
receive audio high/low toggle switch
The PSM attaches to an 'RF Adapter' on the radio's antenna connector.  This diverts the signal from its typical path, the radio antenna, and sends it up the speaker microphone's cord to the PSM antenna.
The RF adapter is the most common source of problems, particularly with loss of coverage. It is easy to damage if improperly attached or removed.  We recommend always leaving this adapter attached to avoid causing damage.
NEVER REMOVE THE ANTENNA from the public safety mic while using your radio.  The transmit power will still be sent to the microphone and, with no antenna, it will come back down to the radio, essentially burning internal components.  The radio will quickly become inoperable.  This damage is not covered under warranty.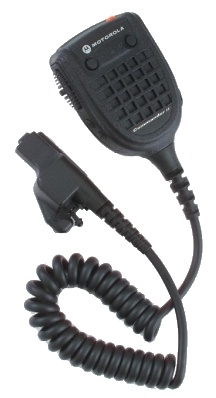 ---
Commander II Remote Speaker Microphone
The Commander II was chosen for the fire service because it was better suited for gloved operations. This microphone offers more controls so that, with the radio inside a turnout coat, a firefighter can still talk, adjust volume, and send emergency alarms.
The Windporting feature dramatically lessens background noise from high winds and other severe weather conditions. Audio can pass through the speaker grill even when the microphone port is blocked by water ensuring a user's confidence of clear communication.
With omni-directional acoustics, the RSM picks up sound equally well from all directions.  When a user speaks directly into the microphone, the noise-canceling acoustics utilize a directional microphone that is designed to eliminate ambient noise – ideal for outdoor communication. Users can also receive discreet audio communication, with an additional earpiece accessory, by utilizing the earjack feature.
The Commander II is FM approved as intrinsically safe and meets the IP54 standard for protection against water sprayed from all directions.
Two small black buttons beneath the push-to-talk button take on the same features as the two programmable small black buttons on the side of the radio.  The up and down volume controls are found on the front face of the microphone.  The emergency alarm button operates identically to the alarm button on the radio.  Both buttons are active.